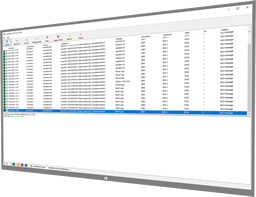 The
mendelson OFTP2 software
is available under different licenses - a commercial license and a community license. We offer a support package (SMP) for the commercial license.
This list contains a short overview on the features of these versions.
Community Edition

Commercial Edition

Commercial Edition + SMP

Price
Free
Number of direct partners
Unlimited
Unlimited
Unlimited
Number of substations
Unlimited
Unlimited
Unlimited
Number of gateway partners
Unlimited
Unlimited
Unlimited
Number of transactions
Unlimited
Unlimited
Unlimited



Functionality

Sender / receiver capabilities
✔️
✔️
✔️
Partner management
✔️
✔️
✔️
Digital signatures, encryption
✔️
✔️
✔️
TLSv1.0, TLSv1.1, TLSv1.2, SSL client authentication
✔️
✔️
✔️
Data compression
✔️
✔️
✔️
Multilingual support: Localized to de and en
✔️
✔️
✔️
Mail notification for several events
✔️
✔️
✔️
Integrated certificate exchange
✔️
✔️
✔️
Work as gateway with full routing support
✔️
✔️
✔️
ASP (Application Service Provider) capable
✔️
✔️
✔️
XML API to integrate and control the server
❌
✔️
✔️
REST API to integrate and control the server
❌
✔️
✔️
Key and certificate management
✔️
✔️
✔️
Key and certificate generation
✔️
✔️
✔️
Alternative connection mode: Poll partners
✔️
✔️
✔️
Alternative connection mode: No outbound connections
✔️
✔️
✔️
Supported database systems
HSQLDB
HSQLDB, PostgreSQL
HSQLDB, PostgreSQL
Run OFTP2 server as service (Windows)
❌
✔️
✔️



Purpose

Architecture
Desktop application
Client-Server application
Client-Server application

Plugins

PostgreSQL
❌
✔️
✔️
High Availability (HA) cluster
❌
✔️
✔️
REST API
❌
✔️
✔️
OAuth2 for SMTP authorization (notification)
❌
✔️
✔️

Support

Community Support Forums
✔️
✔️
✔️
Detailled documentation
❌
✔️
✔️
Access to mendelson Support
❌
💲
✔️
Access to phone Support
❌
💲
💲
Remote Support
❌
💲
💲
Free updates
❌
❌
✔️



License Type

Open Source License (GPL)
✔️
❌
❌
Commercial License
❌
✔️
✔️
Support & Maintenance Plan (SMP)
Buy our Support & Maintenance Plan (SMP) with our software products, which not only enables you to receive priority technical support, but also provides you with all major software upgrades and minor releases at no additional cost throughout the SMP period.
Services includes:
Priority Technical Support - Priority Technical Support provided via e-mail and Web-based support form. Our expert technical support team will respond within 1-2 business days during European business hours (M-F, 8am-5pm CET). German holidays excluded.
Free Minor & Major Releases - You will receive all minor and major software releases that are released during your support period. Updates that you receive cover the specific edition of the product that you have purchased and typically include many additional features.
Maintenance - During the support period you may also report any software problem or error to us using the same support process described above. If we determines that a reported reproducible material error in the software exists and significantly impairs the usability and utility of the software, we agrees to make reasonable efforts to provide a usable work-around solution or to correct the issue in an upcoming service pack or software release (made available at our sole discretion).
The maintenance plan is only available for the commercial version of the mendelson OFTP2 software, and can only be purchased as part of a bundle with a current mendelson OFTP2 software product. If you license more than one product it is required that all have either a SMP or no SMP.

Please remember that we do not offer any support for the community editions of our software.
Desktop application vs Client-Server application
The community edition of the mendelson OFTP2 server has an included graphical user interface and could therefor not be started in a dedicated server environment (mainly linux without an installed X environment).

The commercial edition contains a server installation and a client (graphical user interface) installation with works cross platform. You could for example run the server on your linux server and attach several clients to it from any windows desktop with a single license and user management/login. To fit the productive requirements of your communication the commercial version of the server installation could be started as windows service.
Support for external database servers (PostgreSQL)
All versions of the of the mendelson OFTP2are delivered with an integrated database system (HSQLDB). There exists a plugin for the commercial edition that will turn on support for an external PostgreSQL database server. There are additional license costs for this plugin, please contact the mendelson support for further information.